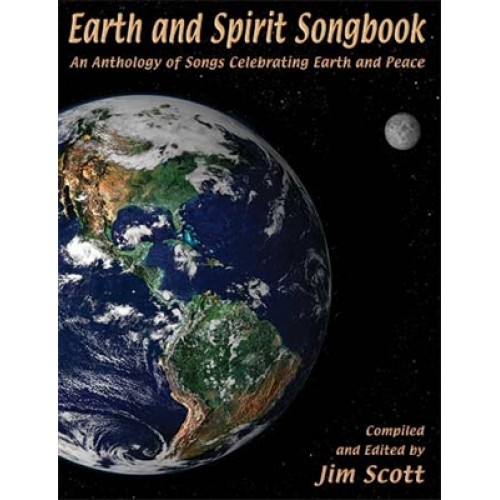 If you want to purchase in quantity, see the other Earth and Spirit Songbook products (2-8 copies for $23 each with free shipping, or 10 plus for $20 each).  This is a great time to supply your choir with this 200-page resource of 110 songs of Earth and peace.
This anthology of 110 old and new songs is a great resource for educators, song leaders, church musicians and anyone who celebrates our amazing planet. The Earth and Spirit Songbook provides entertaining, educational songs of ecology, world humanity and peace with participatory choruses for groups to sing. Compiled and edited by musician-composer Jim Scott, it includes songs by many well-known contemporary songwriters.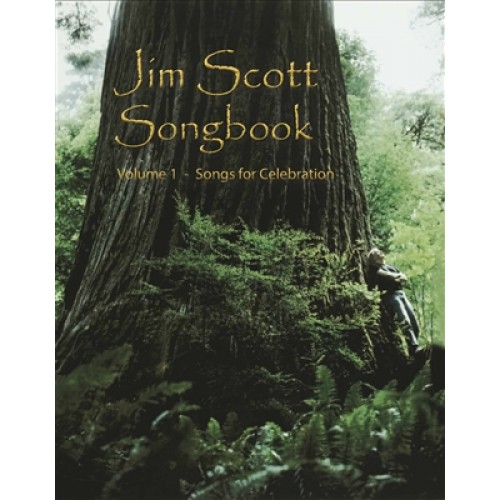 Affirmations and Celebrations
As the title implies, this collection of Jim Scott songs is filled with life-affirming messages perfect for community celebrations and spiritual gatherings. It features old favorites such as Song For the Earth and Gather the Spirit plus more recent compositions (Healing Waters and We Are the Earth). In arrangements anyone can play, the songs have piano accompaniment with chord symbols. (Don't forget, you may need one for the soloist and one for an accompanist.)
The book has 42 songs.   The price of $25 includes Priority Mail shipping within the United States.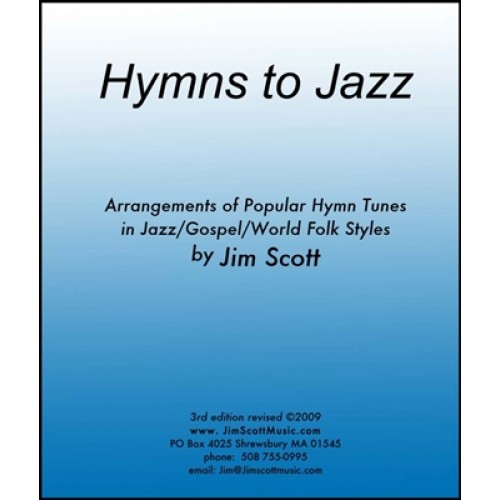 16 Arrangements of Popular Hymn Tunes in Jazz/Gospel/World Music Styles. These arrangements range from lush and rather challenging close harmony to bluesy gospel with some syncopated rhythms to less formal and contemporary style.
Original versions can be found in the "Singing the Living Tradition" UU Hymnbook and "Singing the Journey" Hymnbook Supplement. Several have more than one harmonization.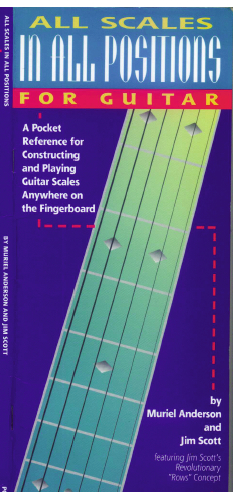 This book is designed to help you discover and recognize the patterns that make up many types of scales. Uncovering the secrets of scale construction can five you a better handle on spontaneous improvisation and creating melodies. By exploring scale patterns from several different angles, you will develop the ability to let the notes fall underneath your fingers, moving seamlessly from one position to the next.
We'll start off with the major scale­—how it's constructed, how it visualize it on a single string and then the entire fretboard, and how to come up with usable patterns. The core of our exploration will be a concept called rows—a unique way of looking at scales across the neck that will help you in developing fingerings and in memorizing and transposing scales.
After the major scales, we'll look at the other scale types—pentatonic, blues, natural minor, harmonic minor, melodic minor, whole tone, diminished, chromatic—and the modes.
Along the way, we'll explore a number of practice techniques, including sequential fingerings, the circle of fifths, and improvisation using chord-scales and motifs. We'll even go off the beaten path to touch on harp-style fingerings and alternate tunings.