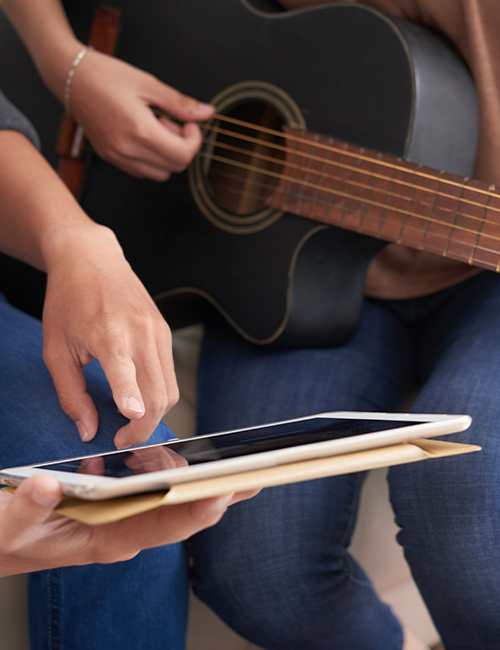 Improve your guitar skills through lessons in person or online with guitarist/composer Jim Scott
Students in the Worcester, Massachusetts area can take lessons in person with Jim weekdays at his studio in Shrewsbury, MA.  Online lessons are available via Skype or FaceTime, which will connect you via audio and video with Jim wherever you might be.
Over a professional music career spanning from classical to jazz to rock to world folk music, notably with the Paul Winter Consort, Jim has developed an approach to guitar playing that can help players at any level.  Known as a teacher through his book  "All Scales in All Positions" (available through Hal Leonard), Jim has collected technical skills and harmonic knowledge into memorable steps and sets of information.  But most of all, Jim makes learning fun.  It's his philosophy that music comes from the heart, so he pays a lot of attention to the expressive side of music-making, whether improvising or performing written music.
Known mostly for acoustic finger-style playing and the sophisticated harmonies he plays in concert, Jim has many insights to offer.  Of course it all takes practice, but Jim's approach helps students move to a new level of guitar playing, opening doors to wider possibilities.
As guitarist with the Paul Winter Consort, then as a soloist and composer of many different songs, Jim's experienced with many styles of music and can teach students the three prime stylistic groups: open position (folk) chords, barred chords for rock and most popular music, and jazz chords that have many voicings and inversions.
Jim Scott has studied at the Eastman School of Music, studied classical guitar with John Marlow at American University and Aaron Shearer at Peabody Conservatory, taught as a graduate assistant at the University of Maryland, and studied jazz guitar with Bill Leavitt at Berklee School of Music in Boston.
See a home-made video of Jim leading a workshop on scales and chords in Raleigh NC on YouTube at – http://youtu.be/AbqOF47J1Fw
INTERESTED IN A
VISIT FROM JIM?