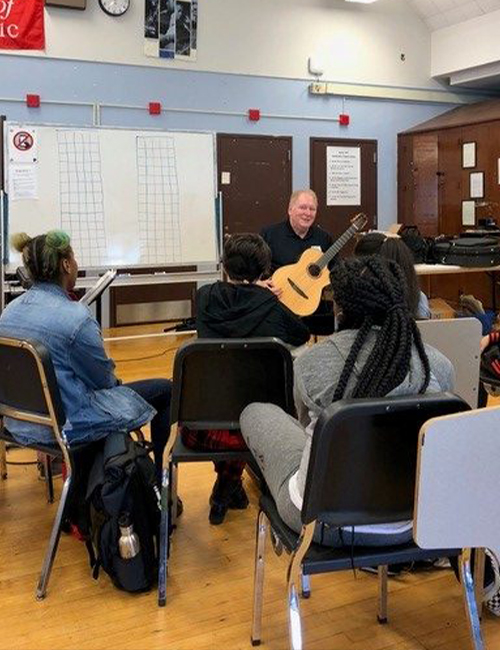 Musical Experiences for Elementary to High Schools, with Jim Scott
Jim Scott has inspired thousands of young people with the magic of music. His jazz /world folk influenced songs challenge kids to listen and participate in something out of the ordinary, while the lyrics speak directly to them of peace, ecology, diversity, and just plain feeling good about themselves.
Perhaps best known as a member of the Paul Winter Consort, Jim wrote many pieces for the group, most notably their "Missa Gaia – Earth Mass. He's gone on to create several albums of his songs and instrumental music, and done soundtrack music for PBS and others. Jim's "Earth and Spirit Songbook," an anthology of over 100 songs of earth and peace by many contemporary composers provides diverse material for participatory concert/workshop presentations.
Jim has also held a great interest in arts education and worked with young people all over the country. He has written many songs for and with children as well as leading workshops in Improvisation and Self-expression in colleges and High Schools.
The heart of Jim's work, though, is his songs that engage and educate about real values. Entertaining while not talking down to his audience, Jim creates an intimate atmosphere to captivate younger listeners. In a style that's hip enough and yet warm and open enough, he sings of values that connect with older age groups. Jim's skill on a solo guitar, using no electronic gimmickry, wins over even tough critics. He often leaves young audiences marveling that they didn't know it was possible to play so much on one guitar. His book on guitar technique was published by Hal Leonard in 2000, and Jim offers an energizing guitar workshop for older students.
INTERESTED IN A
VISIT FROM JIM?