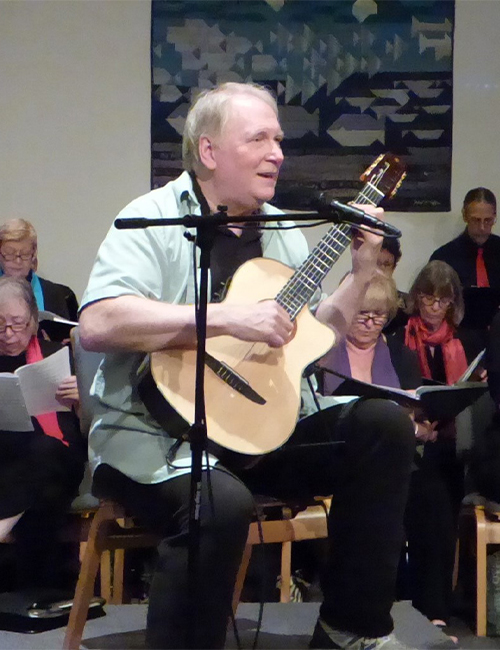 Choirs and choral groups of all ages have been energized by Jim's rich musical interests, from his pieces in the Paul Winter Consort's celebrated Missa Gaia/Earth Mass, to his wide repertoire of compositions and arrangements for all types of choirs, Jim takes singers  in many new directions. His improvisatory song leading gets audiences involved and Jim can provides exciting workshops in contemporary singing to learning by ear in the gospel style.
Larger works:  Jim's Vessels of the Sun and For This We Stand can make a whole concert or church service. Several of Jim's pieces can be put together to make a concert with a theme, and Jim's tribute concert of Pete Seeger's music is an easy and fun experience for choirs to join in.
Jim has performed with many professional and community choirs: The U of Oregon Singers, The Pacific Lutheran University Chorale, the Pomona College Choir, the Choir of Cal State Los Angeles and a mass choir of 7 groups in Spokane WA as well as many church choirs.
Jim has performed with youth choruses such as the Indianapolis Children's Choir, Portland's Chrysalis Youth Choir, and the Kansas City Academy for the Arts. His new Everyone Is Welcome Here for children's choir can be done with Jim or by a group on their own.
For concert performance with choral groups, Jim provides the music  ahead and usually participates in at least two rehearsals. When this often requires a stay of several days, Jim can be of service in other ways.
Duet, Trio, or Quartet Concerts
Jim loves to assemble concerts leading other talented musicians. Beyond his usual trio of percussion and bass, Jim turns to some great collaborator friends on other instruments and vocals. His albums feature some great bands and Jim is continually making new arrangements for larger ensembles. Several examples of Jim appearing with a band can be seen on his YouTube channel. https://www.youtube.com/watch?v=2OJmL8xjd8k
Children's Concerts (For All Ages)
Jim has a big collection of his own songs written for and with kids, and he includes many other sources when playing for young audiences. He can tailor the concert to a particular age group and loves to make programs that entertain the whole family. Examples of this repertoire can be found on his album Big and Little Stuff and his new song cycle Everyone Is Welcome Here.
Jim's stage musical tells the story of a boy who fights to save the forest and his favorite tree from being cut down. This can make all or part of a solo presentation where Jim tells the story and sings the songs. There are parts for the audience to join in. The play has had full-cast productions in New York (Jamestown Community College) and Michigan (Albion Community Players). An abridged version for elementary ages was developed in a workshop by the Summer Arts Program in Fergus Falls, MN.