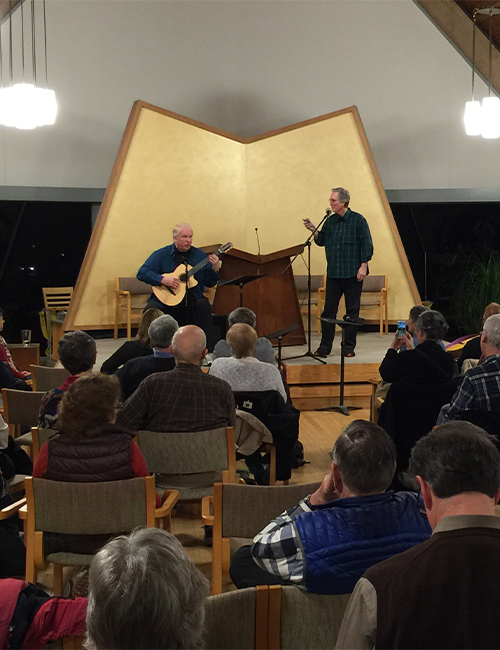 Solo Concerts
Performing solo, Jim draws on his large and varied repertoire of songs. With virtuoso guitar work and an easy, honest presence, he delivers his musical message straight to minds and hearts. From and entirely instrumental guitar performance to songs, a concert can be tailored to the audience. Jim's primary focus is delivering his themes of peace, justice, and care for the earth, but he's been known to digress into all genres from Jazz standards to just about anything. Concerts can be thematic. Designed for kids or grown-ups or more formal Fine Arts programs, Jim finds the right presentation to appeal to diverse audiences.
Concerts – Jim and Band
Jim loves to assemble other talented musicians. Beyond his usual trio of percussion and bass, Jim turns to some great collaborator friends on other instruments and vocals. His albums feature some great bands and
Several examples of Jim appearing with a band can be seen on his YouTube channel. https://www.youtube.com/watch?v=gK1gu5PK89I
Children's Concerts (For All Ages)
Jim has a big collection of his own songs written for and with kids, and he includes many other sources when playing for young audiences. He can tailor the concert to a particular age group and loves to make programs that entertain the whole family. Examples of this repertoire can be found on his album Big and Little Stuff and his new song cycle Everyone Is Welcome Here.
The Tree and Me
Jim's stage musical tells the story of a boy (could be a girl) who fights to save the forest and a favorite tree from being cut down. This can be done as a solo presentation where Jim tells the story and sings the songs, or be done with choir collaboration, the arrangements are quick and easy. There are parts for the audience to join in. The play has had full-cast productions in Jamestown Community College, NY and Albion MI Community Players. An abridged version for elementary ages was developed in a workshop by the Summer Arts Program in Fergus Falls, MN.